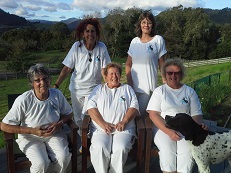 This page is for the beginner classes taught by Denise Whybrow in Thames (New Zealand). People interested in joining, are invited to make an appointment to come along and watch or join in a class. You're welcome to call Denise on (021)1079597 or use the email form below.
Sing Ong Tai Chi in Thames
Parawai School Hall.
106 Lowe Ave, Thames
Tuesdays 7-8pm.
Please phone or text (021)1079597 for more information
Introduction class on Tuesday 15th August at 7pm Parawai School Hall