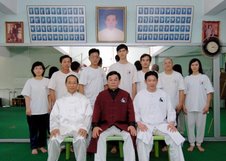 This page is for the beginner classes taught by Wong Wee Choon in Kuching (Sarawak, East Malaysia). New students can join any time, and are welcome to come and watch a class for free before joining. You're welcome to call Mr Wong on 6082 253823 or 016 8982787 (Chinese speakers). English speakers, please call Mr Allen Liew on 6016 8645570.
Sing Ong Tai Chi in Kuching
Near the Hock Lee Centre. The signboard on the shophouse is for the
Sarawak Tai Chi Chuan and Nai Wai Dan Gong Association
. Please call ahead for directions.