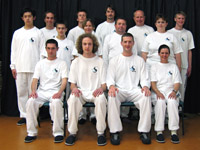 This page is for the beginner classes taught by Lorraine Andrewes in Avondale (Auckland, New Zealand). New students can join any time. You're welcome to call Lorraine on (021) 550022 to confirm class details beforehand.
Sing Ong Tai Chi in Avondale
Avondale Primary School Hall, Crayford Street
7pm on Tuesday evenings.